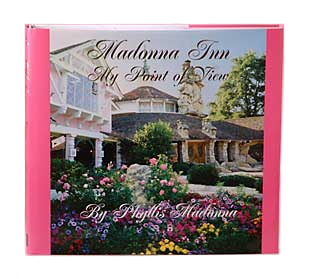 My Point of View Book
With 110 individually decorated theme rooms, such as Caveman, Yahoo, and Old Fashioned Honeymoon, there is no place on earth quite like the Madonna Inn. For over 50 years, travelers have been drawn to this unique and imaginative world class hotel where, behind every detail, there is a personal story.
In her book -- Madonna Inn, My Point of View -- Phyllis Madonna tells the story of the construction of the Madonna Inn. This beautiful book is filled with memories, photos (many taken by Phyllis Madonna), stories, newspaper clippings, cards, and letters. You will learn the history of Alex and Phyllis Madonna, how they met, their family, the conception of the Madonna Inn, the building of a dream, and the many wonderful events and people that have come to this uniquely wonderful hotel.